Hearing Device Manufacturers

Part of the Swiss-based Sonova group, Phonak has been providing relief from hearing loss for over 70 years. You can find their products in over 100 countries globally. Their motto is to provide "hearing solutions that change people's lives and help them to thrive socially and emotionally." This philosophy is evident in their latest product, the Audeo Marvel. Fully rechargeable, it is one of the few hearing aids on the market which is able to connect to any smartphone or other electronic device directly.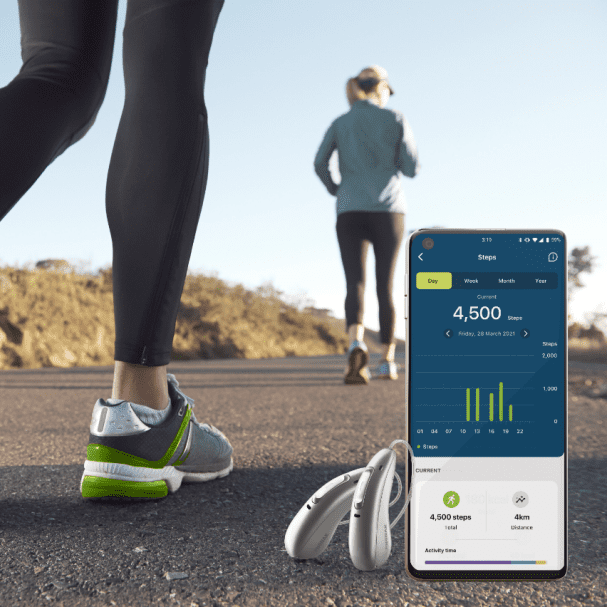 Audéo Fit™
Audéo Fit hearing aids promote healthy habits and create a greater sense of well-being for individuals through health data tracking.* All this while delivering unrivaled** sound quality1 and universal connectivity of Paradise.
Audéo Fit features a Heart rate sensor that collects heart rate.**
By tracking heart rate, steps and activity levels, Audéo Fit promotes healthy habits and creates a greater sense of well-being when paired with the myPhonak app.**
Unleash the wonder within by enjoying the signature unrivaled* sound quality1 and universal connectivity of Paradise.
If keeping connected is important for you, then Audéo Fit hearing aids are ideal. Enjoy multiple Bluetooth® functions with the ability to connect to smartphones, TV and more.
*compared to Phonak Audéo Marvel
**In order to access health data, it is necessary to create an account within myPhonak app.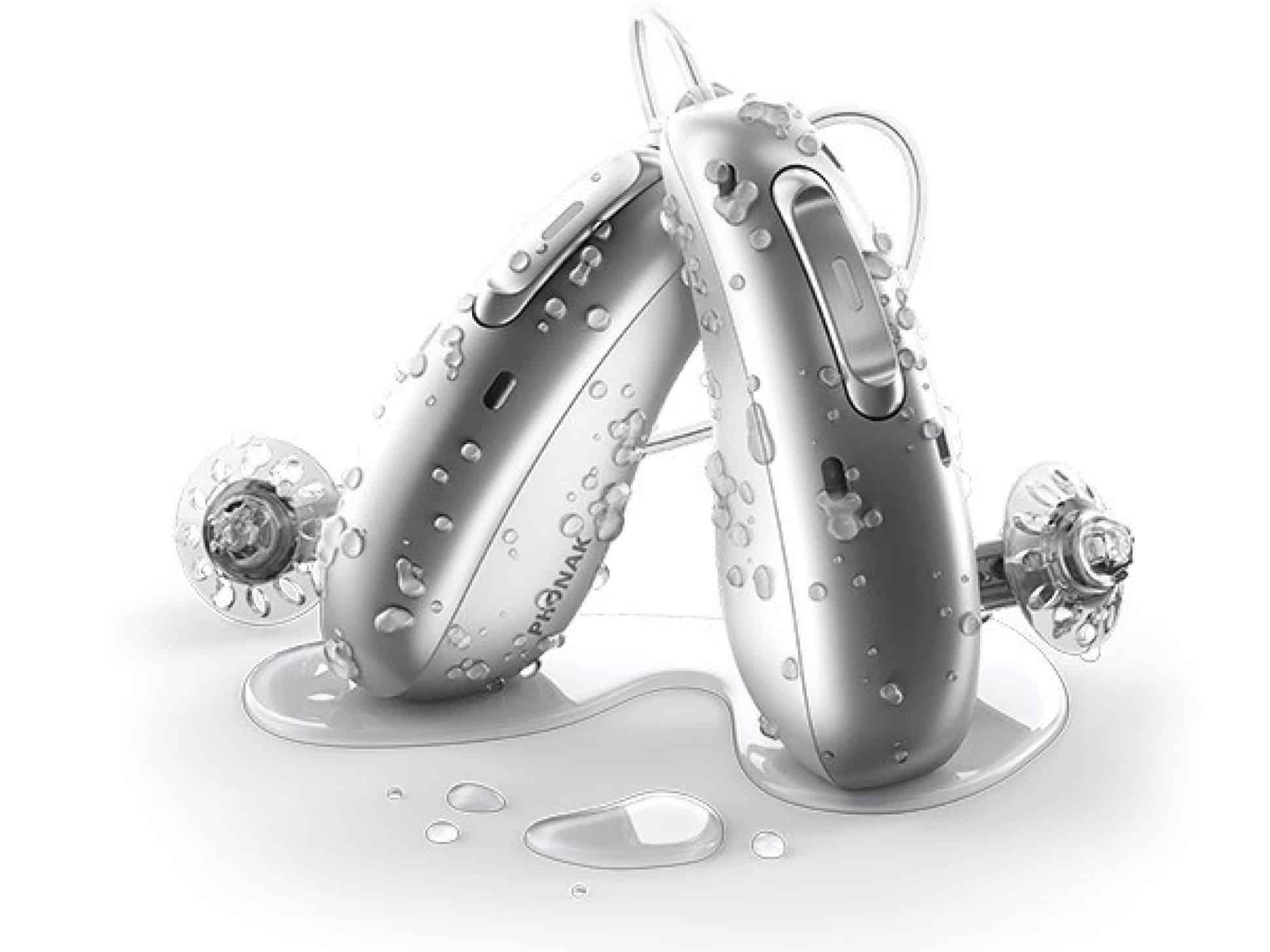 Audéo Life™
Unleash the wonder within you with the world's first waterproof* rechargeable hearing aid
A dynamic element of the Phonak Audéo™ Paradise family, Audéo Life delivers crisp natural sound1 and is capable of being submerged in up to 50 cm or 1.64 feet of fresh, pool or salt water. This means you can get caught in the rain or take a dip in the pool and still be able to participate in conversations around you. Be assured you can live life to the fullest with Audéo Life!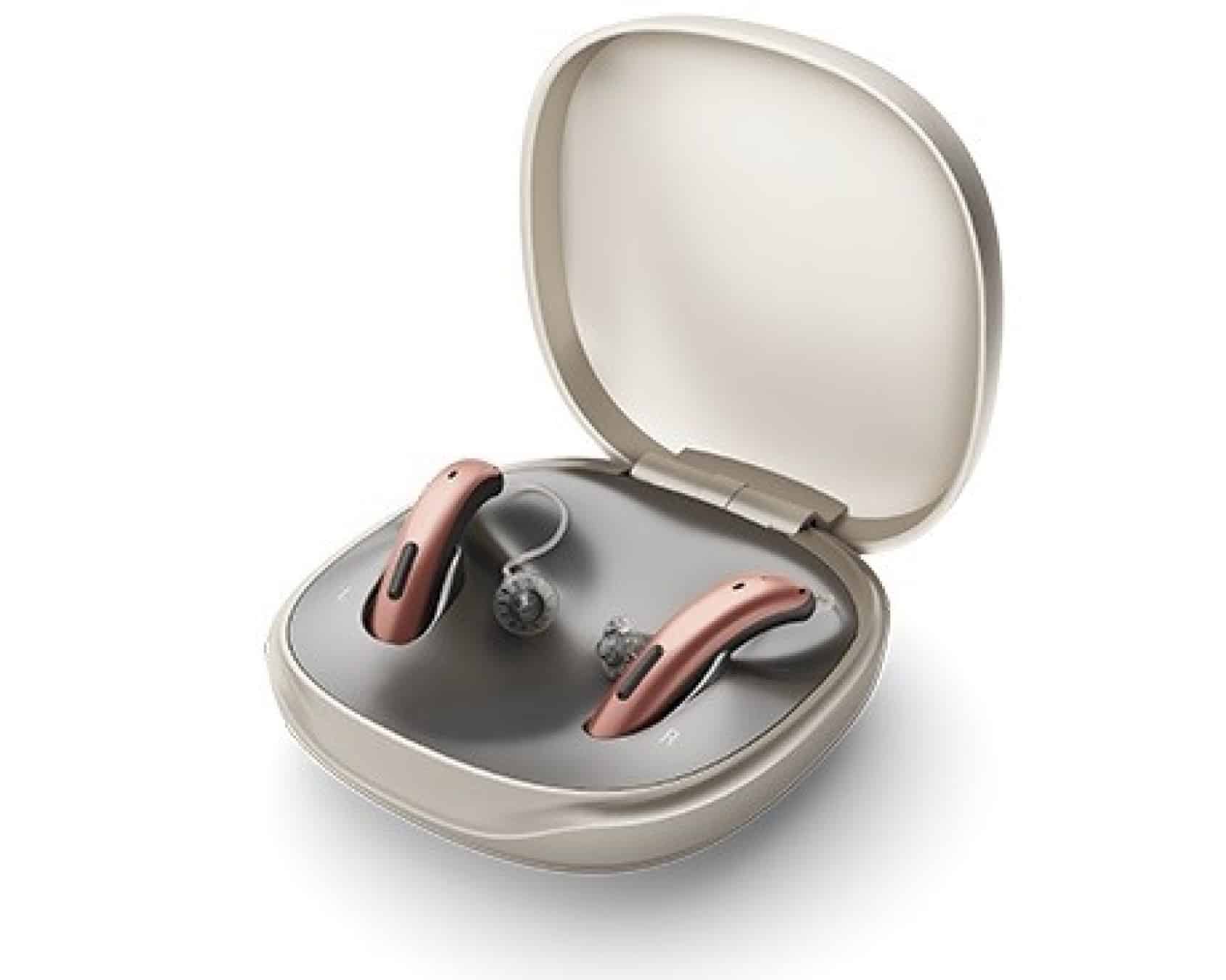 Slim™
It takes two to tango – a perfect couple with a unique left and right design
Unleash the wonder within you with the stylishly designed Phonak Slim. It's the world's first uniquely shaped left and right hearing aids which follows the natural curve of the head.
Plus, you'll appreciate the modern design combined with a whole range of advanced benefits, including unrivaled* sound quality.
*compared to Phonak Audéo Marvel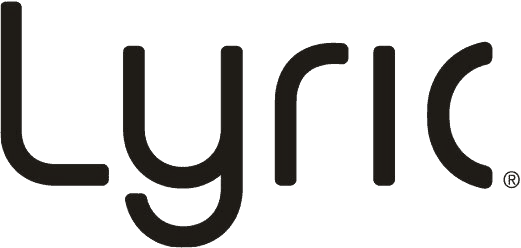 The new Marvel platform expresses our boundless commitment to improve hearing without limitations. Offering excellent hearing performance, speech understanding and sound quality – regardless of the listening environment. What sets the Marvel platform in a league of its own is not just the individual features alone, but the combination of all. They feature all of Phonak's cutting edge technologies integrated into one cohesive system, working harmoniously together. The latest generation of super discreet custom hearing aids made from titanium.
Benefits of Lyric
100% Invisible - Placed in your ear canal, Lyric remains completely out of sight - invisible to the world.
Clear, natural sound - Lyric uses the natural anatomy of your ear to localize sound and delivers a full, natural listening experience.
24/7 hearing - Wear Lyric around the clock for months at a time without taking it out* through daily activities such as exercising or even showering.
A natural listening experience: While traditional hearing aids capture and process sound outside of the ear, Lyric uses the natural anatomy of the ear to amplify and give you a full, natural listening experience.
Because Lyric is placed in the ear canal near the eardrum by a trained professional, it is a 100% invisible hearing aid.
Micro-engineering at its best: Lyric is a very small, discreet hearing aid. Its miniature size combined with its exceptional build quality, allows it to withstand the challenging conditions within the ear canal. Originating in Silicon Valley, Lyric incorporates Swiss precision engineering to create a work of technological art.
---

Oticon is one of the pioneers of hearing solutions, founded in 1904. Backed by a rich heritage, they are considered one of the largest companies in the industry – but they are far from complacent! Driving the company is the motto 'People first', and the company brings this consideration into every piece of research, every hearing aid model, and every feature that they unveil. Oticon is justly proud of their latest model, the OPN S. This cutting-edge model enables hearing aid users to understand speech in noisy environments as if they had normal hearing.
Oticon More
Oticon More is a hearing aid designed to support your brain. Did you know that even with mild, untreated hearing loss, your risk of dementia can double? In a 25-year study, people with hearing loss, but not using hearing aids, had a higher risk of dementia. And since science shows that we hear with our brains and not our ears, having a hearing aid that supports your brain is all the more important.
Oticon More with BrainHearing™ technology is a revolutionary hearing aid that gives the brain more of the relevant information it needs to make better sense of sound, so you can get better speech understanding with less effort and the ability to remember more. Take better care of your brain, and your brain will take better care of you.
---
Oticon More is the world's first hearing aid with a Deep Neural Network (DNN) embedded on the chip. The DNN is trained on 12 million real life sounds to give your brain more of the information it needs to decipher the intricate details of relevant sounds. Oticon More works more like how your brain works because it learned through experience. As a result, you get better speech understanding with less effort and the ability to remember more, even in noisy environments
Staying connected to family and friends is more important than ever. With Oticon More, you also get a wide range of connectivity options for a high-quality listening experience in everyday situations so you can go through your day with more confidence and convenience.
Direct streaming from iPhone® and select Android™ devices*
Make hands-free calls from any smartphone or connect a remote microphone with ConnectClip
Stream sound directly from your TV with Oticon's TV adapter
Use Oticon ON app for easy, discreet control over the hearing aid from your fingertips

Widex is a hearing aid manufacturer with an established reputation for innovation and quality. They created the first ever digital in-the-ear hearing aid and have been known for their cutting-edge hardware ever since. Those looking for a discreet option should consider their model, the Lyric. It is the only hearing aid that is completely invisible to others. You can enjoy better hearing without people knowing you are wearing a hearing aid.
WIDEX MOMENT - Delivers the most pure, natural sound ever.
Even a great hearing aid has always sounded like a hearing aid – until now. The revolutionary WIDEX MOMENT changes the game to deliver the most pure, natural sound ever. Typically, sound processed in a hearing aid reaches the eardrum later than sound heard directly. And when these two 'out of sync' signals mix, you get an artificial sound. But now you can hear every moment - like you used to.
Users prefer the real life sound of Widex MOMENT. Widex surveyed 101 users who tried out MOMENT across situations in their daily lives and 91% agreed that the sound was more satisfactory and lifelike when compared to their existing hearing aids. Are you tired of hearing aid 'revolutions' that no one can hear? We are. That's why WIDEX MOMENT makes a real difference to your hearing in real life. Tests show that a large majority of both new and experienced users prefer the Widex PureSound™ program in WIDEX MOMENT™ across different sound scenarios.
---

---
Rechargeability: Convenience is discreet with WIDEX MOMENT. Although the mRIC model is the market's smallest rechargeable receiver-in-canal hearing aid, you can rest easy knowing you'll have all the power you need to hear every moment. No struggling with hearing aid batteries. Just a slim, simple charger that fits your life.
Built to Last: WIDEX MOMENT is designed to reduce the risk of moisture damage. Because less corrosion means more durability. You'll welcome advanced water-resistant nano coating, durable microphones and smart engineering. When there's no battery door, there are also fewer gaps for moisture to sneak into.
WIDEX MOMENT is available in three Behind-the-ear models and three In-the-ear models. Your hearing care professional can help you choose the ideal model for your specific hearing loss and lifestyle.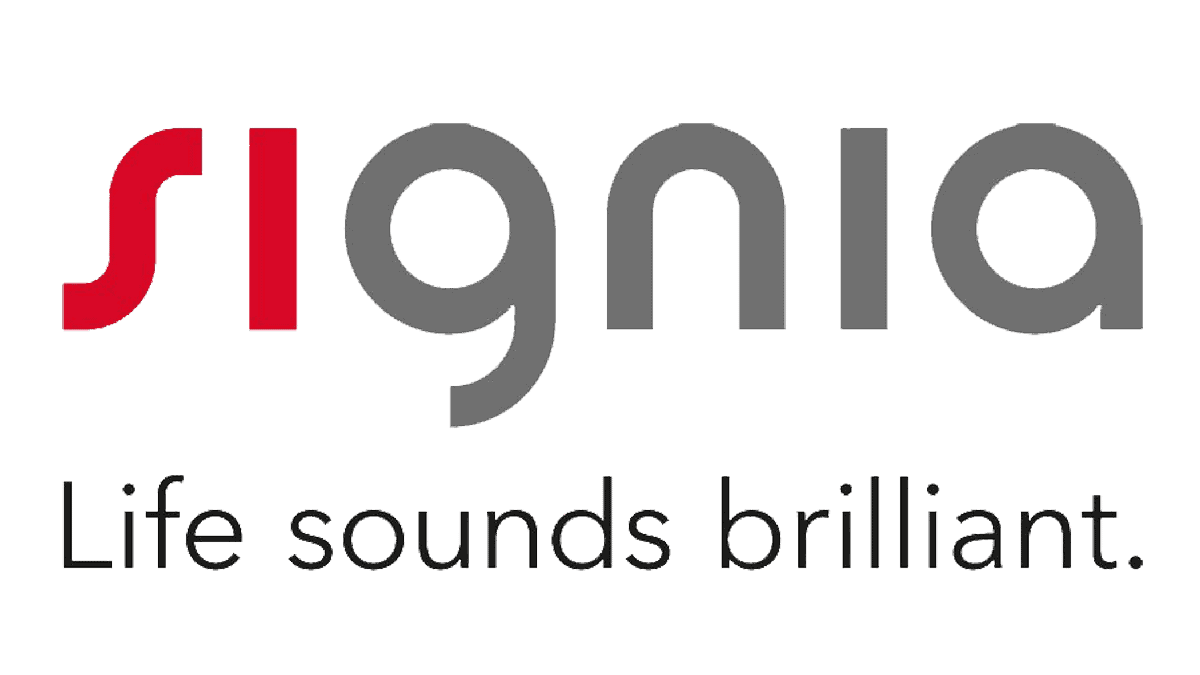 Styletto X
A new era of wearability. Styletto X is the ideal hearing aid for anyone who doesn't want to compromise on their active lifestyle just because of hearing loss. The world's first SLIM-RIC combines brilliant, award-winning design and portable rechargeability with exchangeable receivers, the clear sound and speech understanding of our revolutionary Signia Xperience platform, and Bluetooth connectivity.
Styletto X is a game-changer for your practice. Its refined slim-line styling is preferred by 8 out of 10 people compared to conventional hearing aids. This eye-catching quality enables you to attract new and existing hearing aid wearers.
---
Key Features:
Uniquely stylish, award-winning design
Signia Xperience technology with the world's first acoustic-motion sensors for clear speech comprehension even in noisy environments
Tinnitus options
Remote control
Connectivity and high quality audio streaming
Signia Xperience
Hear what matters to you. The revolutionary Signia Xperience platform with the world's first acoustic-motion sensors gives state-of-the-art hearing aids like Styletto X a new sense to understand what their wearer really needs to hear.
Silk X
Signia XPerience Platform: Crystal-clear sound in every situation. Whether you're in a crowded street, working in an open-plan office, or dining in a busy restaurant, wherever there's a high level of ambient noise, holding a conversation requires concentration and effort. Silk X tackles these challenges expertly with the true-to-life sound of Signia Xperience. So you hear what matters to you. All day long, in every situation.
One of the world's smallest hearing aids, Silk gives you the confidence of knowing that no one even notices you're wearing them. All models sit discreetly inside your ear. The only ready-to-wear CIC available on the Signia Xperience platform delivers clear speech understanding in an ultra-discreet size with instant fit. Thanks to its flexible silicone Click Sleeves, Silk X sits securely in the ear for a brilliant fit on the spot.
---
Tailor-made without the wait:
Silk X is fitted with highly adaptable soft-silicone Click Sleeves that simply click onto the hearing aids to ensure a level of comfort and secure fit in your ear previously only available with custom-built housings. The sleeves come in 4 different sizes suitable for most ear anatomies and hearing needs so there is no wait as with other in-the-ear devices.
Perfectly positioned for phone calls and music:
Unlike hearing aids that sit behind the ear, Silk X's microphones pick up sound inside the ear canal. This enables you to make phone call and listen to music in the way you are used to, including with over-ear headphones. Silk X hearing aids are the ultimate nearly invisible ready-to-wear hearing solution to keep your hearing loss hidden.
Personal support at your fingertips:
Thanks to Signia's TeleCare remote support, you can get direct help from your hearing care professional via the Signia app on your smartphone. Wherever you are. You can control the volume and other settings discreetly via the Signia app or the miniPocket on your key ring.
Active Pro
Upgrade to the future with Signia Active Pro. Bridging the gap between hearing aids and consumer electronics.
Ready to wear, Signia Active X combines iconic user-friendly design similar to premium consumer earbuds with audiological high-tech. This includes Signia Xperience YourSound technology for enhanced speech understanding in noise, Bluetooth connectivity, portable Li-ion rechargeability, and the self-service convenience of the Signia Assistant.
Leading audiological performance
Our latest hearing innovations offer leading audiological performance in iconic form factors. They combine our proven Signia Xperience YourSound technology built on revolutionary acoustic-motion sensors with Li-ion rechargeability and Bluetooth connectivity so your clients always hear what matters, with ease.
---

ReSound ONE
Hear like no other. Just like a fingerprint, your hearing is one of a kind. Now you can experience truly individualized, natural, and more complete sound with an extra microphone placed in your ear canal.  We call it M&RIE. It uses your own ears to deliver sound. Designed to meet your individual needs.
---
Greater hearing in any environment: All Access Directionality ensures you're in the best position to hear what's important.
Focus in on speech in front of you: Activate Ultra Focus for a great one-to-one hearing experience in the toughest environments.
Hear the world with your own ears: The M&RIE design uses your unique ear shape to deliver our most natural sound.
Remote hearing care from your home: Get help from your hearing care professional via ReSound Assist Live video calls.
ReSound's most natural sound quality: Get the truest sense of space and easily locate sounds with M&RIE, a Microphone & Receiver-In-Ear design. Our one-of-a-kind hearing aid enriches your daily sound environments with more direction and depth.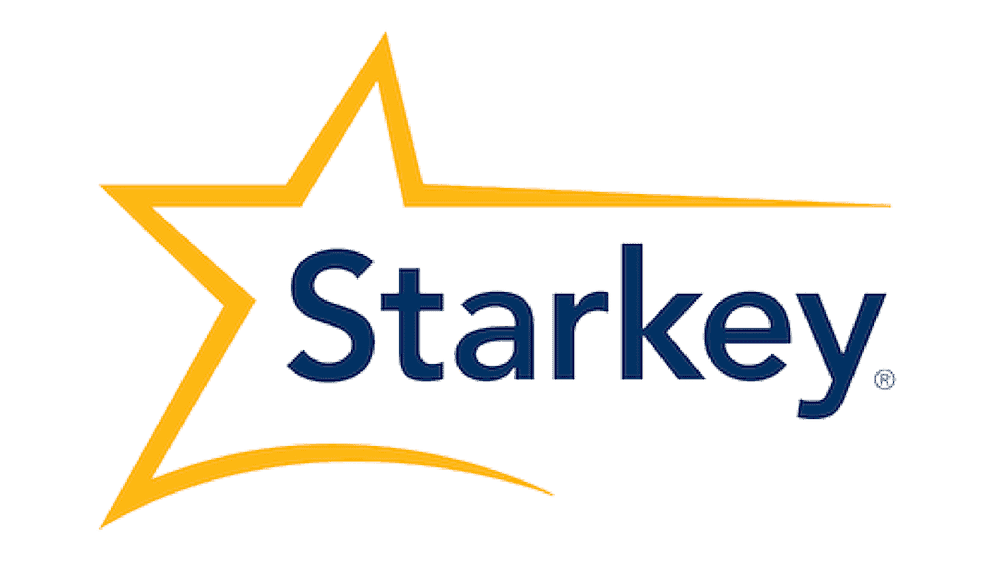 Starkey Livio EdgeAI
Next-generation sound never before possible. With Livio Edge AI, the power of artificial intelligence is at your fingertips, giving you never-before-possible sound performance in the most challenging listening environments.
Choose from a standard rechargeable style — or the world's first custom rechargeable hearing aid — and give yourself the edge you deserve!
Starkey's industry-leading sound performance takes Livio Edge AI to new heights, providing you with instantaneous adjustments for the most challenging listening situations:
Hear speech comfortably even in busy settings while unwanted noise is suppressed.

Boost speech sounds to help make it easier to hear people who are wearing face masks.
Stream crisp, clear phone calls and experience music the way it was meant to be heard.
Connect via Bluetooth® with accessories and select smartphones.
Superior Sound Quality: Advanced technologies work together to provide exceptional sound quality in any environment.
Rechargeable: The smallest Healthable rechargeable hearing aids available, providing up to 24-hour wear.
Edge Mode: Conducts an AI-based analysis of the environment to make immediate adjustments designed to improve speech audibility issues caused by background noise and even face masks.
Speech Enhancement New: AI-enabled IntelliVoice feature helps improve speech understanding for those with significant hearing loss.
Phone calls: Answer calls with the touch of a button and stream them to your hearing aids.
Streaming: Enhanced streaming performance lets you enjoy music or favorite TV shows like never before.
Personalized Memories: Create multiple custom memories including geotagged memories like, "coffee shop" or "home."
Remote Control: Change volume and switch memories easily using a tool in the Thrive app.
Auto On/Off: Automatically and conveniently save battery power when your hearing aids are not in use.

---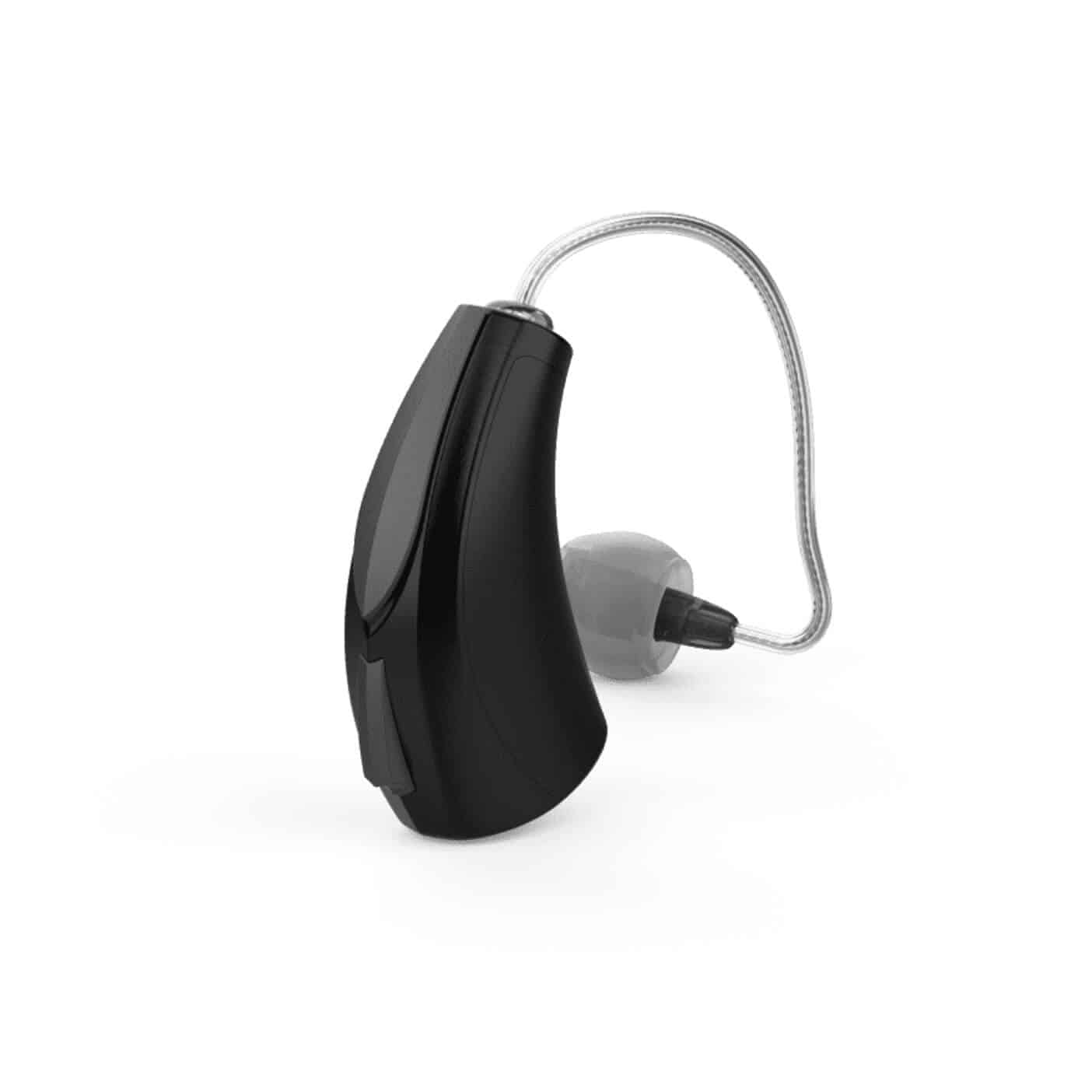 ---
Healthable Technology
The ear is the best place to accurately track health and fitness data and Livio Edge AI is the first hearing device to provide you with that advantage!
Body Tracking: Tracks your daily steps, measures movement and monitors more vigorous physical activity.
Brain Tracking: Monitors the brain-health benefits of wearing hearing aids by tracking active listening.
Fall Detection and Alerts: Detects when you fall and sends an alert message to selected contacts.
Intelligent Assistant Technology
Livio Edge AI hearing aids work with our Thrive Hearing Control app to simplify your life with the convenience of information services and features.
Hearing Care Anywhere: Minimize visits to our office by requesting remote adjustments, including via video chat.
Find My Phone New: Using your hearing aids and Thrive Assistant, you can now locate your lost or misplaced phone by having it ring.
Tap Control: Enables you to easily stop or start audio streaming by simply tapping your ear twice.
Self Check: Provides a quick, convenient way for you to analyze your hearing aid system's performance.
Thrive Assistant: Provides quick answers to questions like, "how do I adjust volume?" or "what's the weather?"
Translate: Communicate with people who speak other languages via a translation tool in the Thrive app.
Find My Hearing Aids: Helps you easily locate misplaced hearing aids by providing a location and a timestamp.

Changing lives since 1964, Unitron is one of the few companies to actively seek and maintain strong relationships with healthcare professionals and work with research institutions in the US and Canada. Founded and based in Canada, their products are known for their high quality and ease of use. Those who are looking for a versatile hearing aid should check out their Moxi All R. At the time of release, it was the first rechargeable hearing aid that connected directly to any smartphone with a Bluetooth capability.
DIRECT CONNECTIVITY TO PHONE
Direct connectivity is one of the flagship features of many of our hearing aid manufacturers. They differ from previous smartphone connected hearing aids as there is no need for an intermediary streamer to connect the two devices. It's never been easier to take calls, listen to music, or stream a movie directly from your phone to your hearing aid.  
MADE FOR IPHONE
Many of our featured manufacturer's products are designed specifically to connect to the Apple iPhone. They usually come with a 'Made for iPhone' logo when being advertised.  The following models and series have a direct connection to the iPhone:
Oticon: Opn, Siya
Phonak: Audeo Marvel, Audeo B-Direct
Unitron: Moxi All
Widex: Evoke Fusion, Beyond
These models work with the iPhone 5 and upwards, including recent iPads. Note that most of these models will only work with the iPhone, though some offer Android compatibility. For direct connectivity to all smartphones, consider models like the Audeo B-Direct by Phonak or the Moxi All by Unitron. No iPhone? No problem! Many cell phones are compatible with the newest hearing aid technology, call us to find out.
Contact Us
Start your journey to better hearing today!
Our audiologists specialize in disorders of the ear and hearing system. We have spent years training to take care of people experiencing ear disease and hearing loss. Click below to contact us to schedule your hearing exam.
Contact Us
Start your journey to better hearing today!
Our audiologists specialize in disorders of the ear and hearing system. We have spent years training to take care of people experiencing ear disease and hearing loss. Click below to contact us to schedule your hearing exam.
Contact Us